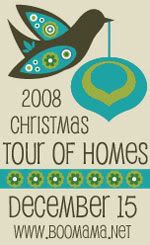 Last year I loved looking at the homes on Boomama's blog during her Tour of Homes, but never joined in. I decided to play along this year.
Enjoy:
Tree in family room. I had absolutely nothing to do with this beauty. My MIL, Jana, does it for me every year!
My favorite nativity sitting on a table in my entry way
mantel. Had nothing to do with this either. Oh I take that back, I did hang the stockings!:)
The boys' tree in the office. We had a great time decorating this with all the ornaments they've acquired or made during their short lives.
These are the boys' stockings that Santa actually fills. My aunt Becky made them. BTW, Becky, Zachary wants to know why his is so much smaller!
Zachary's minature tree that he decorated himself. It's in his cabin themed bedroom.
Front door wreath. Notice the creation from
Engraved Euniques
in the center. If you are participating in this tour of homes, you may win one for yourself.
Go
here
and check out all the other great homes. It's so fun to see how everyone else decorates for the holidays. Warning: It's addicting and you will waste half of your day clicking on all the different one million participants!
Merry Christmas!